Today I want to show you a technique that was around a while ago, and seems to be making a bit of a comeback. This method is a little easier to do and results in a unique look when complete.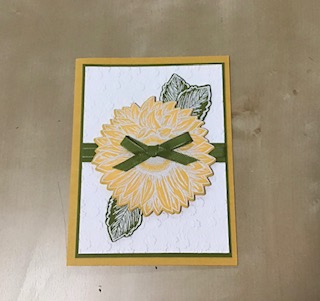 Supplies:
Celebrate Sunflowers Stamp Set and Dies
Card stock: Bumblebee, Old Olive, Whisper White
Ornate Floral Embossing Folder
Versamark
White Embossing Powder and Heat Tool
Bleach and Medium size Paint Brush
Measurements:
Bumblebee Card Stock: 8 1/2"X 5 1/2", 3 1/2 X 3 1/2"
Old Olive Card Stock: 3 7/8" X 5 1/8", 1/2" X 3 3/4", & scrap for leaves
Whisper White Card Stock: 3 3/4" X 5", 5 1/4" X 4"

Instructions:
Stamp the Sunflower on the 3 1/2" X 3 1/2" Bumblebee card stock using Versamark, then sprinkle with white embossing powder, then heat until set (it will be shinny). I also embossed the leaves but I did not bleach them. Use the dies to cut out the leaves.
Pour a little bit of bleach into a small dish, then take your paint brush dip it into the bleach and then paint the petals of the flower(inside the embossed petals. They are a brighter yellow and lighter then the base. You may have to go over a few of the petals a couple of times if they are not bleached enough.
While it is drying you can emboss the white piece 5" X 3 3\4" using the Ornate Floral Embossing Folder.
I used to 1/2" X 3 3/4" Old Olive strip to go across the middle of the while embossed piece, then placed a 5" piece of Old Olive Ribbon in the middle of the 1" Old Olive strip.
Once the flower is dry you can use the die to cut it out.
I used dimensionals to pop the flower up and placed it in the middle of the card. I took an extra piece of ribbon and tied a bow to place in the middle of the flower.
Here is a sample using the new In Colors doing the Bleach method. The only one that did not have any effect was the Black Sunflower. I am not overly keen on the way the Magenta Madness one turned out, but I liked the others.