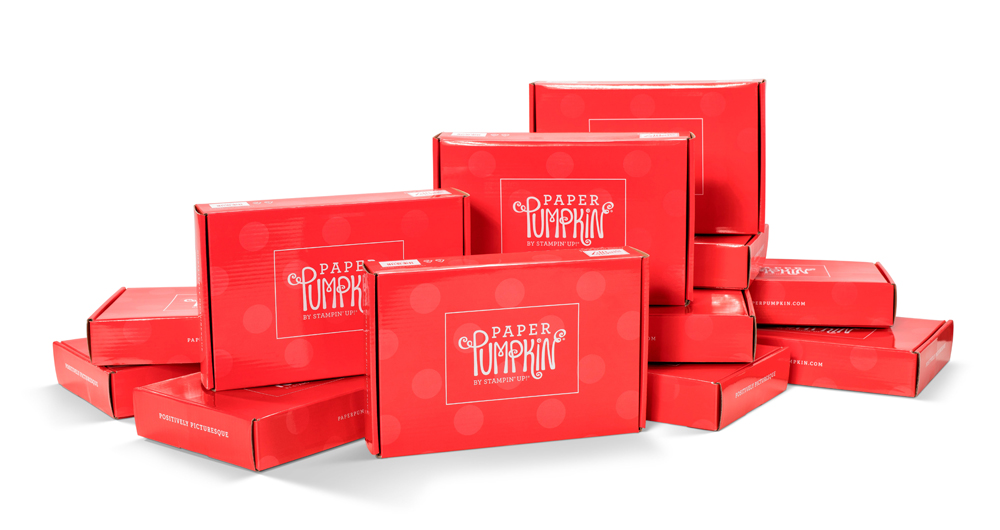 Paper Pumpkin is a fun and creative, fully designed paper crafting project kit that arrives at your door monthly in a delightful box. Filled with exclusive stamps, ink, and paper—everything is pre-cut or punched and ready to go so you can skip right to the fun of putting things together. Paper Pumpkin is for Everyone! No crafting skills or special tools are required. Men, women, teens and seniors can all enjoy creating great paper crafts.

Each kit is special and different - you will make a variety of great paper crafts from all occasion cards to gift and treat containers. Some kits make one very special home decor item, while other make twenty or more individual items to share. It is always a surprise you wait for with great anticipation. In the run of a full year you will have collected 12 unique and exclusive stamp sets for every occasion, and 12 different coloured "ink spots" - mini ink pads. You can continue to use these with your own paper supplies for ongoing creativity.


Just think of it as "Monthly Fun & Creativity in a Box"

Paper Pumpkin is a simple and inexpensive subscription service. You sign up for just $30+tax a month with free shipping right to your door. You can pause your subscription if you're going to be away or don't want to receive your kit a particular month, and you can unsubscribe from the service at any time. So what are you waiting for? Join the millions of people around the globe enjoying Paper Pumpkin crafts every month.


SIGN ME UP!





Subscription period now open until May 10
Step up to the plate, take a swing, and knock it out of the park! With the Batter Up! Paper Pumpkin Kit, it's your turn to go to bat for all the people who've gone to bat for you. This month's timeless kit with a "throwback" theme contains enough grand slam supplies to create nine cards—and coordinating envelopes—featuring classic colors, pinwheel and pinstripe patterns, and vintage-washed paper pieces. There's no "batter" way to root, root, root for your home team and honor the all-stars in your life!
A beloved baseball-themed kit would be incomplete without the sport's signature, sticky snack—the official bubble gum of the MLB! A favorite in the field, the Batter Up! Paper Pumpkin Kit contains a couple sticks of the chewy staple; chew while you craft, slide a piece into a card, or save it for later.
Send a seventh-inning stretch in a classic card with all-star stripes, a nostalgic nod, and a stamp set fit for an MVP! But, before you give it all you've got, give this month's promotional video a watch. Play ball!





Kit Details
- Kit contains enough supplies to create 9 cards—3 each of 3 designs—and coordinating envelopes.
- The all-inclusive kit includes printed card bases, die-cut paper pieces, embellishments, adhesive, and more!
- Card size: 4-1/4" x 5-1/2" (10.8 x 14 cm)
- Envelope size: 4-1/2" x 5-3/4" (11.4 x 14.6 cm)
- Coordinating colors: Basic White, Bumblebee, Night of Navy, Pacific Point, Real Red, Smoky Slate, Soft Suede
- Comes with the official bubble gum of the MLB—a ballpark favorite! Chew while you craft, slide a piece into a card, or save it for later.
---
A Peek At Recent Kits From The Pumpkin Patch


April Unboxing video available on April 20