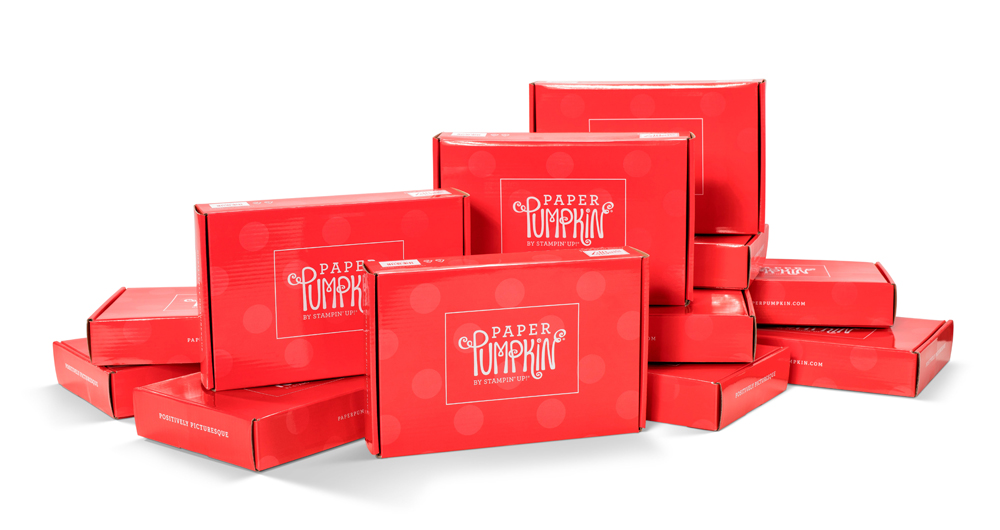 Paper Pumpkin is a fun and creative, fully designed paper crafting project kit that arrives at your door monthly in a delightful box. Filled with exclusive stamps, ink, and paper—everything is pre-cut or punched and ready to go so you can skip right to the fun of putting things together. Paper Pumpkin is for Everyone! No crafting skills or special tools are required. Men, women, teens and seniors can all enjoy creating great paper crafts.

Each kit is special and different - you will make a variety of great paper crafts from all occasion cards to gift and treat containers. Some kits make one very special home decor item, while other make twenty or more individual items to share. It is always a surprise you wait for with great anticipation. In the run of a full year you will have collected 12 unique and exclusive stamp sets for every occasion, and 12 different coloured "ink spots" - mini ink pads. You can continue to use these with your own paper supplies for ongoing creativity.


Just think of it as "Monthly Fun & Creativity in a Box"

Paper Pumpkin is a simple and inexpensive subscription service. You sign up for just $30+tax a month with free shipping right to your door. You can pause your subscription if you're going to be away or don't want to receive your kit a particular month, and you can unsubscribe from the service at any time. So what are you waiting for? Join the millions of people around the globe enjoying Paper Pumpkin crafts every month.


SIGN ME UP!





Subscription period now open until October 10
When you picture a peaceful Christmas, what comes to mind? Do you see snow outside your window, softly swirling through the sky? A tree trimmed with tinsel, a fire crackling nearby? Maybe you're dreaming of decorating a holly jolly gingerbread house. Can you catch a whiff of Christmas cookies wafting through the air?
Whatever it is you think about when Christmas comes to town, picture a peaceful Christmas with the
Peaceful Christmas Paper Pumpkin Kit!
This glimmering and gleaming kit is your creative kickstart to Christmas cardmaking. With sprinkles of snow, shimmering silver skies, and heartwarming holiday wishes, you'll have enough elements and embellishments to create 10 Christmas cards and coordinating envelopes.
Speaking of coordination, make even more Christmas magic with Peaceful Place products! Our stunning Peaceful Place Suite Collection (item 156277) pairs perfectly with the kit's components. Brew a cup of cocoa, snuggle up with a soft blanket, and prepare for a cozy craft night in!
Kit Details
- The kit contains enough elements to create 10 Christmas cards—5 each of 2 designs—and coordinating envelopes. This all-inclusive kit includes printed card bases, die-cut paper pieces, embellishments, adhesive, and more!
- October's kit arrives in a cute collectible box covered with enchanting evergreen trees. Use this special, limited-edition box to store your holiday handicrafts, or transform it into a well-wrapped package for a present!
- The kit's contents pair perfectly with the Peaceful Place Suite Collection (item 156277). To continue your Christmas crafting, combine the kit's components with the suite's patterned paper, shimmery sequins, and more!
- Card size: 4-1/4" x 5-1/2" (10.8 x 14 cm)
- Envelope size: 4-1/2" x 5-3/4" (11.4 x 14.6 cm)
- Coordinating colors: Basic Gray, Real Red, Shaded Spruce, silver foil
---
A Peek At Recent Kits From The Pumpkin Patch